Sussex rail crossing death warning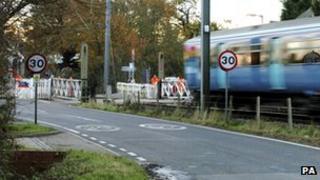 Network Rail has launched a campaign warning pedestrians to take care on rail footpath crossings.
The TV and radio adverts show a family playing I Spy in the countryside, when the daughter realises she is on tracks with a train bearing down on her.
It comes as it was revealed three of the 24 UK deaths on footpath crossings since 2007 were in Sussex.
Of 46 people killed on all types of level crossing in the UK since 2007, seven were in Sussex.
Network Rail, the owner and operator of Britain's rail infrastructure, released the advert to highlight the dangers of not paying attention at level crossings.
It hopes the adverts, broadcast from Monday, will cut the number of people killed or seriously injured at these crossings.
Jogger killed
One of those killed in Sussex was 18-year-old Matthew Leonard.
On Valentine's Day last year the student from Christ's Hospital School, near Horsham, was killed by a train as he crossed a track at Itchingfield.
The captain of his school's cross-country running team was out for an early-morning jog at the time.
It is thought he did not hear the train coming because he was listening to music through headphones.
A coroner recorded a verdict of accidental death.
Network Rail is spending £130m on an investment programme to improve level crossing safety.