Chailey Commons: Grazing animals to 'protect heathland'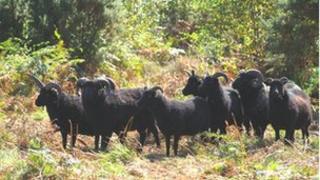 Herds of sheep and cattle are being used to protect one of the largest open heathlands in East Sussex.
About 80 Hebridean sheep and a small number of Sussex cattle will graze on Chailey Commons between North Chailey and Wivelsfield Green.
East Sussex County Council said it was hoped the animals would remove invasive plants.
The cattle and some of the sheep will wear fluorescent collars to aid their visibility to motorists.
From 9 October the animals will graze on Memorial, Pound and Romany Ridge Commons.
They will have access to North Common Road and Beggar's Wood Road and their movement will be controlled by cattle grids.
The animals will stay there as long as the weather conditions are suitable and there is enough food available.
From the end of October, Exmoor ponies from the Sussex Pony Grazing Trust will graze on Red House Common to help to control scrub and gorse.