Fears over Chichester respite home The Cherries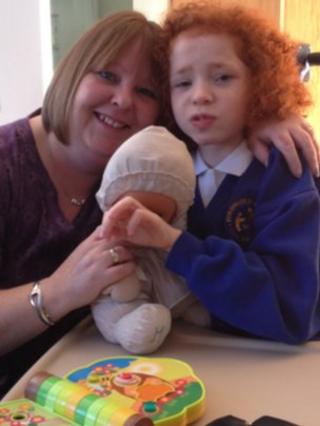 Parents of children with disabilities in West Sussex are campaigning to secure the future of a respite care home they describe as a "life-saver".
Families fear the Chichester home is under threat of closure because of a review of services by NHS Sussex.
Emma Taylor, whose 12-year-old daughter Megan goes to The Cherries, said she would not be able to travel 37 miles to attend another centre.
NHS Sussex said it had heard parents' concerns and would work with families.
The health trust is looking to redesign children's community nursing in West Sussex in line with national policies, which raised the criteria for children to qualify for services.
Ms Taylor said Megan, who has cerebral palsy, epilepsy and severe learning difficulties, loved going to The Cherries.
'Amazing staff'
"Megan has been going there for nearly seven years," she said.
"It is so close to her school, the hospital and the staff are amazing.
"I don't understand why they would want to change something that works so well.
"The whole unit is a life saver to me."
Jessica Heatley, whose daughter Danielle has autism and also attends The Cherries, has started an online petition to keep it open.
She said it would be the "end of my world" if it closed.
Julia Dutchman-Bailey, chief nurse for NHS Sussex, said about 25 families were affected by the reorganisation.
"NHS Sussex is charged with making the best use of public money," she said.
"We are going to retain the choice of having a residential or respite overnight stay if that's what mums and families want.
"One of our options is that it may be provided somewhere else in West Sussex.
"We hear families' concerns and we want to work with them."
'Firmer footing'
Sussex Community NHS Trust, which runs The Cherries, said it ran two other respite homes in West Sussex - Holly Lodge in Horsham and Finches in Burgess Hill.
A spokesman said the trust had seen a reduction in demand for short breaks because of changes in eligibility and had struggled to recruit the specialist staff needed.
He said opening days and times had been reduced at Holly Lodge and Cherries, leading to less choice and flexibility for families.
He also said children using Holly Lodge in Horsham had recently been transferred to Finches in Burgess Hill as part of a temporary closure to manage the service more effectively.
But the spokesman said the temporary suspension of services at Holly Lodge was helping Sussex Community NHS Trust put services provided at Cherries and Finches on a firmer footing.