Brighton all-you-can eat restaurant bans two 'greedy' diners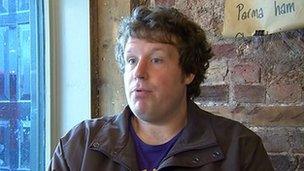 Two men barred from an all-you-can-eat Mongolian restaurant in Brighton say it was because they ate too much food.
George Dalmon and Andy Miles, both 26, have visited Gobi, in Middle Street, twice a month for two years to take advantage of the £12 deal.
But when they each ate five bowls from the buffet at their last visit, Mr Dalmon said they were called "filthy pigs" and barred by the "rude" manager.
The restaurant's owners said they were fed up with their lack of manners.
They accused the pair of pushing out other diners in their rush to get to the food.
But former rugby player Mr Dalmon said: "As we were eating the last bowl, the owner came up and said never to come back again, we're disgusting, and we're eating him out of business, so we're nothing but filthy pigs.
"So, I was quite shocked about this and I asked him if he was joking and he replied 'no, I'm definitely not, I've had it with you two, that's it'.
"Obviously we've paid the £12 for the buffet and it says you can have as much as you like, but apparently five bowls was over the top as far as he was concerned."
The owner who barred them is currently on holiday, but has admitted calling them pigs.
Co-owner Peter Westgate said: "Like when the shark shuts its eyes before it feeds, they're like that. They just get to the buffet and whatever happens they just pile it in.
"They muck the buffet up for everyone, they push and shuffle people from the barbecue area and it's pretty sad really, because you can eat all you like over five-and-a-half hours - it's not an issue, you don't need to rush."
Gobi's website invites customers to select meats, seafood and vegetables from the buffet, add herbs and spices, then take it to the grill to be cooked - repeating the process "as many times as you wish".
Related Internet Links
The BBC is not responsible for the content of external sites.