Newhaven Port chosen for wind farm base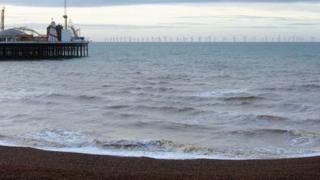 The East Sussex port of Newhaven has been chosen to be the operations and maintenance base for a proposed wind farm in the English Channel.
Energy company E.ON said it had decided on the location following a rigorous technical assessment of both Newhaven and Shoreham Ports.
The proposed Rampion wind farm, eight miles (13km) off the coast on Hastings Bank, would have up to 195 turbines.
East Sussex County Council and Lewis District Council welcomed the decision.
The Crown Estate awarded E.ON the licence for the Rampion wind farm in January 2010.
Marine environment
It expects to submit a formal application for consent later this year following public consultations which ended in August.
Environmental campaigners have expressed concern about the impact of the development.
Brighton and Hove Friends of the Earth gave "conditional support" to the project but said not enough had been done to protect the coast, while Surfers Against Sewage feared it could reduce wave height by 22%.
Sussex Wildlife Trust said it needed more information about the effect on the marine environment.
E.ON said the Newhaven wind farm base would create up to 85 full-time jobs, with the majority of workers being recruited locally, and include modernisation of a section of the port.
E.ON development manager Chris Tomlinson said Newhaven was the ideal location because of its proximity and accessibility to the wind farm site and the space available.
"This is great news for Newhaven Port," said manager Francois Jean. "The decision will kick-start our plans for regeneration."
Lewes council leader James Page said the decision was a massive boost for the local economy.
"This will provide a boost for the district council's aspiration to have a university technological college supporting an engineering and renewable hub in Newhaven."