Winchelsea priest David Page given permission to preach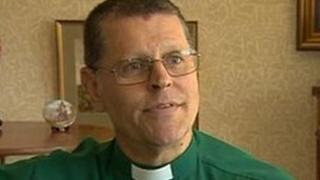 A gay priest who was banned from preaching by the Church of England has been told he can take services again.
The Rev David Page was banned in 2008 from officiating at St Thomas the Martyr in Winchelsea, East Sussex.
The church's parochial church council (PCC) invited him to lead worship again but the Diocese of Chichester took disciplinary action against him.
The diocese said in a statement that the disciplinary matter had reached an "agreeable conclusion".
Mr Page said that the Bishop of Lewes, the Right Reverend Wallace Benn, originally refused him permission to minister because he would not disclose whether his relationship with his civil partner was celibate.
The Church of England allows for the ordination of gay priests as long as they are celibate.
The diocese stopped him again when he defied the ban after the parish asked him to return to the pulpit.
'Sanctions or discrimination'
Mr Page, who claimed the church's actions were homophobic and discriminatory, said he hoped his actions would help to make life easier for gay clergy.
"There are really quite a lot of us," he said.
"Everybody knows that really, but once it is publicly said then it is extremely difficult for anybody to use sanctions or discrimination because it is all out there.
"I very much wish that clergy would stand up and be counted.
"I wish bishops who are gay, some of whom are in partnerships, would stand up and be counted too because then things would change."
The diocese said it had received a complaint under the Clergy Discipline Measure that Mr Page had, over a protracted period, exercised his ministry without holding the Bishop's Permission to Officiate (PTO).
It said that while there was no suggestion whatsoever he had behaved inappropriately with children or vulnerable adults, the church relied upon the PTO to fulfil its safeguarding obligations.
"Now that this complaint has been resolved the acting diocesan bishop has granted David Page Permission to Officiate which he hopes will be welcomed by the parish and people of Winchelsea," it said in a statement.