Major Justin Stenhouse honoured for Afghanistan tour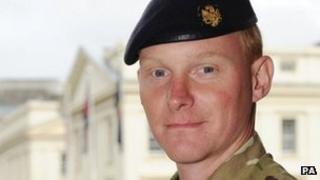 An Army major who threw himself into the line of fire in Afghanistan to protect the men under his command from Taliban insurgents has been honoured.
Major Justin Stenhouse, 36, from Hartfield, East Sussex, has been awarded the Distinguished Service Order for leadership in battle.
He was leading an elite reconnaissance unit which came under attack.
A citation praised his enduring courage and leadership during a challenging, dangerous and demanding tour.
Maj Stenhouse, of 1st The Queen's Dragoon Guards, led his men on around 70 missions as the squadron leader of the Brigade Reconnaissance Force (BRF) in 2011/12.
In one attack he ran forward into the line of fire to put the Taliban fighters on the back foot.
'Just did job'
In another airborne raid, the Taliban put his unit under intense fire, but the officer led an assault on their position.
The father-of-two, whose regiment is based in Shrivenham, Oxfordshire, said: "I just did my job.
"The main threat was not from bullets but from improvised explosive devices.
"Because of their indiscriminate nature, that is what we were most worried about.
"When you do come under fire, you have to keep moving otherwise the bullets come closer to you and your soldiers.
"We saw dust being kicked up by bullets within a metre of us."
He added: "The planning and nine months of mission specific training we did prepared us so that when we were faced with the enemy, we reacted automatically.
"When we needed to seize the initiative it was second nature to do what I did.
"I can't emphasise enough how much the success of the mission was down to the other 122 men in the squadron."