Camp and rally against Bexhill-to-Hastings link road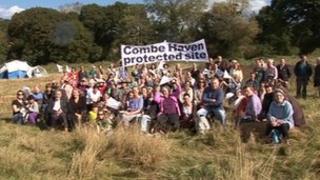 Campaigners have set up camp in protest against plans for a Bexhill-to-Hastings link road.
Groups including the Combe Haven Defenders and the Hastings Alliance are staging a rally to show their opposition to the £93m project.
Campaigners have argued the road will increase traffic and carbon emissions and devastate the Combe Valley.
Both the government and East Sussex County Council have said the road will regenerate a deprived area.
'Respect democracy'
At the camp, Derrick Coffee, from the Hastings Alliance, said: "Over the hill to my left are 140,000 people. This is within walking distance. This is their playground. This is their educational and recreational resource."
And historian Nick Austin said: "We are just about to prove that the Normans landed here and it was the site of the Battle of Hastings."
But Amber Rudd, Hastings and Rye MP said: "I would ask them [the campaigners] to respect democracy and say this is the system we have. We have appealed. We have protested, but the road must be allowed to go ahead. Many more people want it than don't."
On Thursday, the government confirmed East Sussex County Council could acquire the land needed for the scheme through compulsory purchase orders.
Council leader Peter Jones has said the road will bring jobs, housing and business opportunities, and fewer road crashes.