Bexhill-to-Hastings link road compulsory purchases approved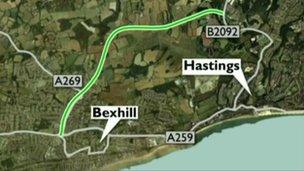 The Bexhill-to-Hastings link road has come a step closer after the government confirmed the compulsory purchase orders (CPOs) for the £93.8m project.
East Sussex County Council will now be able to acquire the land needed for the scheme following a public inquiry.
The Secretaries of State for Transport, and Communities and Local Government confirmed the CPOs. The government will allocate £56m to the plan.
Campaigners have challenged the project and applied for a judicial review.
A hearing for the application, which was made by the anti-link road Hastings Alliance, will take place in October.
Related Internet Links
The BBC is not responsible for the content of external sites.