IPCC probe: Sussex Police shot Seaford gunman three times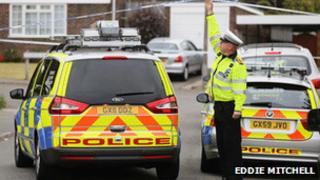 A man who was shot by Sussex Police in Seaford was fired at three times, the Independent Police Complaints Commission (IPCC) has said.
The IPCC is in the early stages of an investigation into the shooting which happened on Sunday in North Way.
Sussex Police said the 62-year-old exchanged fire with armed officers at about 01:00 BST after nearly six hours of negotiations.
The man was shot twice in the torso and once in the leg, the IPCC said.
He was taken to the Royal Sussex County Hospital, where his condition was described on Friday by the IPCC as critical but stable.
'Attempted murder'
Mike Franklin, IPCC Commissioner, said: "This matter was referred to the IPCC in the early hours of Sunday morning and we immediately sent investigators to the incident.
"At this stage we can confirm that the man was shot three times by Sussex police officers, twice in the torso and once in the leg. Four baton rounds were also discharged.
"A shotgun was recovered from the scene and an initial ballistics report indicates that one shot was fired from it."
He said police officers had provided the IPCC with their initial accounts of the incident and IPCC investigators had been taking statements from witnesses.
Mr Franklin said: "Our investigation, which is in the very early stages, will scrutinise the actions and decision-making of Sussex Police, including the initial 999 call, the deployment of armed officers and the negotiation process over a number of hours leading up to and including the shooting."
He said an IPCC family liaison manager was in contact with the man's family.
On Sunday, Sussex Police said armed police officers were called to the scene on Saturday night following a report of a domestic incident involving firearms.
A woman left the house after police arrived and shots were later exchanged with armed officers from Surrey and Sussex Tactical Firearms Unit, officers said.
Two police officers were slightly hurt during the incident, but not shot, police added.
Detectives said they were treating the investigation as the attempted murder of police officers.