Seaford armed siege: Gunman shot by police 'stable'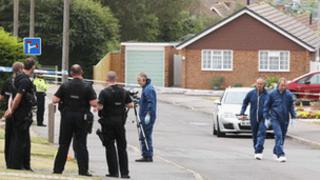 A gunman who was shot by police during an armed siege is in a stable condition in hospital.
The 62-year-old exchanged fire with armed officers outside the property in Seaford, East Sussex at 01:00 on Sunday after almost six hours of negotiations.
Sussex Police said on Thursday that the man was in a stable condition in a medically induced coma.
The incident is being investigated by the Independent Police Complaints Commission.
The force was called to North Way on Sunday after reports of a row involving firearms.
A woman left the home after the police arrived and shots were exchanged with armed officers from Surrey and Sussex Tactical Firearms Unit.
Two officers were slightly hurt during the incident but not shot, according to Sussex Police.
Detectives said they were treating the investigation as the attempted murder of police officers.