Sex assault on Eastbourne jogger: E-fit image released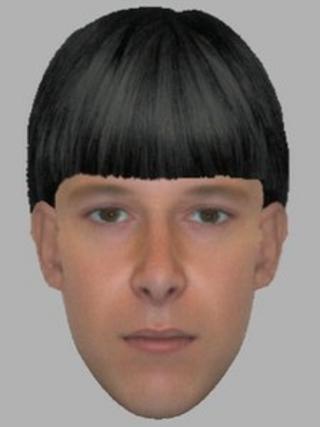 An e-fit image of a man police believe sexually assaulted a woman jogger in Sussex has been released.
The attack on the woman in Hartfield Road, Eastbourne, took place on Sunday at 10:15 BST.
She sustained minor cuts and bruises during a brief struggle with the man, who ran off after the incident.
Sussex Police said officers were considering whether the man was also responsible for two other attacks in the town in August.
The suspect is described as olive skinned, in his late teens or early 20s, about 5ft 8in tall, with a "pudding bowl" hairstyle.
Police believe the man may also be responsible for two other assaults in Eastbourne.
On 26 August a woman was approached from behind in Mountney Road and assaulted. The suspect ran off when she screamed.
And on 27 August a woman in her 80s was walking along Dittons Road when a man approached and lifted her skirt before running off.