Sussex Police: Modern poaching 'shady criminal world'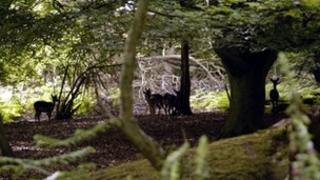 Poaching gangs are driving through rural areas of the South East at night and killing deer at random, the BBC has been told.
They use lamps so the eyes of deer light up and the poachers shoot them from the vehicle, often with high-powered firearms.
Some incidents have seen the poachers take the deer carcasses to game dealers after removing their organs, leaving the remains in fields, according to one legally-sanctioned deer stalker.
Sussex Police have described modern commercial poaching as a lucrative criminal business and a "shady world".
Deer stalker Simon Barr, who works across Kent and East Sussex, said: "The romantic idea of 'poaching one for the pot' is not true.
"It's not about bopping a pheasant on the head, or tickling a trout. They do it on a commercial basis with hi-tech equipment, such as night vision."
He said the poaching gangs preyed on areas where they knew deer were likely to be and on a regular basis.
They sold the venison to game dealers who were supposed to check their "hunter's declaration", a numbered certificate required by law.
'Excruciating pain'
But Mr Barr said: "They don't know how to keep venison in the best way possible. They don't do the checks that vets would do on farm animals.
"Very often, they'll be shooting with inappropriate calibre which is illegal, and if not done properly the animal will not be killed outright and will suffer and must be in excruciating pain."
He added: "We find them in all sorts of trouble. We take them to be humanely dispatched. That happens two or three times a season."
As a bona fide deer stalker, Mr Barr himself kills deer and takes venison to game dealers.
But he said: "I do it during the day. I do it with appropriate equipment. They do it at night and shooting deer at night is illegal.
"I have done months and months of training in how to dispatch animals in the most humane way. It's very likely the poachers haven't."
Ch Insp Martin Sims, of Sussex Police, said poaching posed public health risks because meat was being introduced illegally into the system and there was an obvious risk to public safety with animals being shot at night.
"There is also concern for deer not being killed in a clinical and professional manner as many are shot with weapons not suitable for the size of the animal," he said.
Police have advised game dealers, restaurateurs, hotels and public houses to check they are not buying illegally killed game.
Businesses have been urged not to purchase meat from people they do not know, report immediately suspicious gatherings in car parks around vans or 4x4s, and check dealers' legal documentation when buying meat.
The force has said an increasing number of poaching-related crimes were being put before the courts, and police were working closely with farm and land owners and in some cases even installing cameras.
"I would urge anyone to contact police with any information that would help in catching poachers, especially if they have been offered meat from sources other than bona fide dealers," Ch Insp Sims said.