Anti-abortion protesters cleared over foetus posters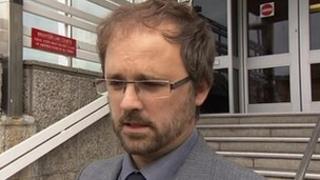 A campaigner who displayed graphic banners of aborted foetuses outside an abortion clinic in Brighton has been cleared of public order offences.
The case against Andrew Stephenson, of Worthing, West Sussex, collapsed after the judge reached an early conclusion based on the evidence he had heard.
Police arrested the anti-abortion protester outside Wiston Clinic in Dyke Road last June over the 7ft poster.
Pro-choice campaigners said they were disappointed by the verdict.
'Intimidating women'
Reacting outside Brighton Magistrates' Court, Mr Stephenson said: "What the police have been doing in shutting us down has had a chilling effect on free speech.
"Hopefully this will have a chilling effect on the police now to hold back on their over-enthusiastic, over-reaching arm of the law."
The images displayed on the poster by campaign group Abort 67 were of seven and 10-week-old foetuses considered too graphic to be broadcast by the BBC.
Pro-choice campaigner Kate Smurthwaite said: "Our concern is that this not guilty verdict effectively sends a green light to organisations like this to continue their campaign of intimidating women, intimidating clinic staff and intimidating people trying to provide access to legal medical procedures in this county."
Sussex Police said they never sought to stop protests at Wiston Clinic, and were acting on public complaints.