Hastings fire service cover proposals go to public consultation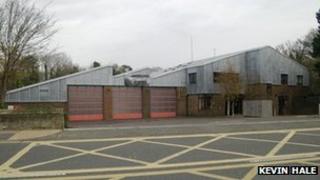 A public consultation is to be held on the future of fire service provision within the borough of Hastings.
The announcement by the East Sussex Fire Authority follows its discussion on the findings of a comprehensive report regarding service cover.
The recommendations could see the downgrading or closure of the Ridge Fire Station in Hastings.
The consultation period will run from Friday for 12 weeks, with the results to be discussed on 13 December.
The review was requested by the fire authority as part of East Sussex Fire and Rescue Service's Community Risk Management process and contained within its Medium-Term Plan 2011-12 - 2015-16.
The Fire Brigades Union (FBU) has expressed concern at the recommendations and said they would "greatly impact upon the safety of the public" and lead to slower attendance times in the event of an emergency.
'Time critical rescues'
In a statement, it said: "From the information supplied under the Freedom of Information it is apparent that around 1,900 households in the most socially deprived area would be significantly affected.
"This will reduce the ability for time critical rescues to be carried out in the event of an emergency."
It added that the review of fire cover within the Hastings area had been completed by fire service managers and proposals put to the fire authority, without FBU involvement.
Gary Walsh, deputy chief fire officer for East Sussex Fire and Rescue Service (ESFRS), said nothing had yet been decided and no final decisions would be taken until December.
He said: "Similarly, what is eventually decided will only be done with the priority of ensuring we continue to provide an operational response in Hastings in line with our current service standards and target response times.
"There will be no drop in standards and safety will not be compromised, either for the public or for our firefighters."
A public meeting hosted by ESFRS is due to held in the Hastings area.