Hastings Pier compulsory purchase approved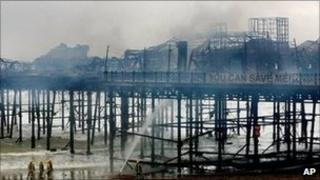 The government has confirmed that the compulsory purchase order of Hastings Pier from its Panamanian owners, Ravenclaw, can go ahead.
It means the Hastings Pier and White Rock Trust (HPWRT) and Hastings Borough Council can buy the Victorian pier as soon as funding is in place.
The trust should know if it has secured lottery funding in November.
The 140-year-old pier was almost destroyed in a fire which broke out in the early hours of 5 October 2010.
Council leader Jeremy Birch said the compulsory purchase order, which has a six-week challenge period, was "a major step forward in returning Hastings Pier to its rightful place as a major attraction on our seafront".
'Back to life'
Jess Steele, one of the founding trustees of the trust, added: "Today is a very important day in the history of Hastings Pier.
"These things do take time, but this makes all of the work which has been going on behind the scenes worth it.
"We know that there is still a lot of hard work ahead and we'll need the ongoing support of local people and businesses.
"We are now eagerly awaiting the announcement from the Heritage Lottery Fund, expected in November, which we hope will allow us to take ownership of the pier and get on with bringing it back to life."
Up to 95% of the structure, which was closed to the public in 2006, was damaged in the fire, which took four days to put out.
The owner of the pier, Ravenclaw, was issued with the compulsory purchase order after it missed a deadline to start repairs.
HPWRT aims to restore the structure, and incorporate a new visitor centre.
The one building that survived the fire, the Western Pavilion, will become a restaurant and bar.