Brighton Speed Trials crash: Woman killed named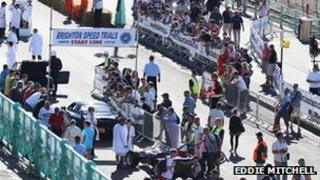 A woman killed in a crash at a speed trials event in Sussex which left a motorcyclist in a critical condition in hospital has been named by police.
Charlotte Tagg, 38, from Beck Row, Suffolk, was a passenger in the sidecar of a Honda Asco which hit a wall during the Brighton Speed Trials on Saturday.
The 63-year-old motorcyclist from London is at the Royal Sussex County Hospital with serious injuries.
Officers have appealed for witnesses or anyone with footage to come forward.
Sussex Police said the woman who died on the track in Madeira Drive at around 18:15 BST has not been formally identified yet.
Sgt Huw Watts, of Sussex Police, said: "This was a tragic incident during what should have been an enjoyable event. Our thoughts are with the woman's family and friends at this time.
"We are currently investigating how the collision happened and would like to appeal for anyone who witnessed the incident or anyone who has any pictures or footage to contact Sussex Police."
The Brighton Speed Trials are held every year on the beachfront in Madeira Drive, organised by the Brighton and Hove Motor Club.