Bluebell Railway to complete extension by March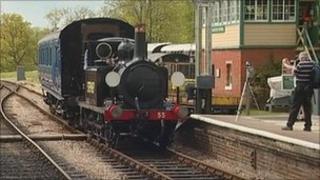 An extension to a stretch of track on a steam railway in Sussex is expected to be completed by March.
Work to extend the Bluebell Railway to allow trains to go to East Grinstead began more than three years ago.
Rebuilding the line is costing £3.5m, with much of the cash being used to remove thousands of tonnes of rubbish from a cutting at Imberhorne.
A special through train from London is due to run on 28 March to mark the event.
Tourist attraction
The railway currently runs for nine miles from Sheffield Park to Kingscote, but the two mile northern extension will join it up with the national railway network.
It should be ready exactly 55 years after the line closed on 18 March.
Mid Sussex District Council has invested £100,000 in the project, saying it will "deliver significant improvements to one of the most important tourist attractions in Mid Sussex".
The council hopes the extended railway will also attract an additional 55,000 visitors to the area each year.