Asian families warned after £10,000 jewellery burglary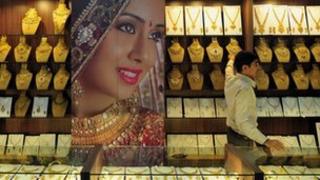 Gold jewellery worth £10,000 has been stolen from a home in East Sussex while the owners prayed at a mosque.
Burglars forced a back window of Mehbub Miah's home in St Leonards and took several sentimental items including chains, bracelets and rings.
Mr Miah and wife Sabira have owned many pieces since they married 13 years ago.
The theft follows several burglaries of Asian homes in Crawley last month and police say Asian families who often own large amounts of jewellery are at risk.
The haul includes four gold bangles, a ring with a flower design and two gold chains with lockets - one heart-shaped and the other in the form of a rose.
'Devastating'
Mr Miah said his brother's wife's wedding ring was also stolen, as they were staying with him at the time.
Faisal Hoque, chairman of the mosque the family attend, said he believed Asian and Hindu families were being targeted.
"I'm deeply saddened by what happened with Mehbub Miah's family, I'm extremely sorry to hear that," he said.
"I wasn't aware that it happened on that massive scale, more than £10,000 worth of jewellery stolen is very devastating.
"I hope I'm wrong but I think someone's ticking the calendar and going round when festivities are on."
Imam Sajeed, chairman of the Muslim Council for Religious and Racial Harmony, said the burglaries and particularly the taking of sentimental items were very upsetting.
In July and August, jewellery worth about £100,000 was stolen in a spate of thefts at the homes of Asian families in the Crawley area.
Sussex Police believe one gang raided 12 homes, taking jewellery worth between £1,000 and £30,000 every time.
Jewellery is given to Asian women when they marry, on birthdays, and at other key life events.