Sussex bathers 'unaware' of beach pollution from sewage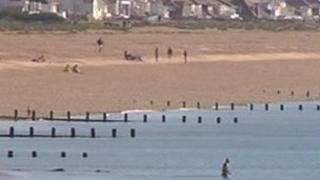 People are continuing to bathe in a contaminated area of Sussex coastline, the BBC has learnt.
Engineers have been repairing the system at East Worthing wastewater treatment works since Saturday when it was forced to pump out raw sewage.
Although the waste water is being treated properly again, people have been advised not to swim along a stretch between Southwick and Ferring.
But some bathers at Shoreham beach told the BBC they were unaware of the issue.
The pollution occurred on Saturday night when pumps became blocked by a build-up of debris.
Southern Water said the sewage, which would normally be treated before being released further out into the English Channel, had to be diverted directly into the sea to prevent localised flooding in Worthing.
But a number of people interviewed by BBC South East at Shoreham beach said they were unaware of warning signs.
The Environment Agency has been working with Southern to minimise the risk of further pollution and to oversee the clean-up.
The warnings will be lifted when the agency is satisfied with the water samples it is checking.
A Southern spokeswoman said: "The site is now treating wastewater as it should, as enough pumps are working to ensure we can pump the waste water through the correct channels. However, it is a large and complex site and there are still some repairs taking place."
The spokeswoman promised a full investigation, but said the warnings were the responsibility of Worthing Borough Council.
"If people feel we didn't communicate well enough, this is something we will look into as part of our investigation," she said.
The council has so far not been available to comment.
Campaign group Surfers Against Sewage has called for back-up pumps to be installed for emergencies to prevent a repetition.