Brain tumour symptoms spotted on mobile phone footage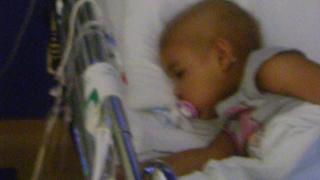 A two-year-old girl was found to have a brain tumour the size of a satsuma after her mother showed video footage from her phone to a consultant.
Catherine Chiputi, 31, said a nursing consultant and a GP had failed to spot her daughter Ruby was seriously ill.
It was only when she showed the footage to a consultant at Conquest Hospital that her symptoms - which included poor co-ordination - were picked up.
Ruby is having chemotherapy and is said to have a 65-70% chance of survival.
'Terrible co-ordination'
Mrs Chiputi said: "When we found out we just felt terror and dread, it's every parent's worst nightmare, and it still is ours."
"I've been crying a lot today and looking at pictures of her... it's been incredibly difficult."
She said she took Ruby to her doctor's surgery in May after she and her husband Tapera, 32, noticed she had become unsteady on her feet.
"Her symptoms were quite disturbing and worrying and they were increasing in severity very quickly," she said.
Mrs Chiputi said Ruby was given an outpatients appointment for three weeks' time after being seen by a nursing consultant at their local doctors' surgery.
Instead she took her daughter to A&E at Conquest Hospital in Hastings where she was seen by an out-of-hours GP who said Ruby's symptoms were non-urgent and referred her to the hospital's children's unit.
"The day before I went to the doctor I took a video of her eating which showed her co-ordination was terrible.
"Eventually I showed a consultant this at the Conquest Hospital and once he'd seen the video he realised it was quite serious."
Mrs Chiputi said a scan revealed Ruby had a brain tumour the size of a satsuma. Ruby is now aged three and is having treatment at the Royal Marsden Hospital in Sutton.
She is now calling for health bosses to give GPs better training in how to spot the signs of brain tumours.
"I just want to raise as much awareness as I can with parents but also within the NHS itself because so many times I was told 'why are you worrying an outpatients appointment for three weeks is fantastic, normally its three months'.
"The neurosurgeon told me and my husband if we had waited three weeks Ruby would have died."
She said brain tumours were one of the biggest killers of children in the UK, yet there seemed to be a "massive void" about brain cancer and early diagnosis.
NHS Sussex, which oversees Mrs Chiputi's doctor's surgery as well as the out-of-hours GP service at the Conquest Hospital, said it was investigating.
In a statement it said: "Although brain tumours are rare, clinicians are trained to spot the warning signs to ensure appropriate diagnosis and prompt treatment.
"As no complaint had been made to the GP practice or hospital, we were not aware of Mrs Chiputi's concerns.
"Now these have been raised with us, we have spoken to Mrs Chiputi directly and a full investigation is now under way."