Brighton 'squat' raided under new criminal law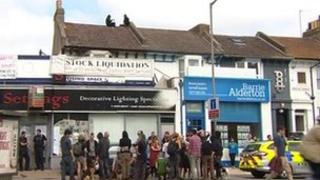 Three suspected squatters who glued themselves together in the loft of a building in Brighton have been arrested after being removed by police.
Hove MP Mike Weatherley said the raid was the first of its kind since new legislation making squatting a criminal offence came into force on Saturday.
Two men who were on the roof of the building made their own way down and were not arrested.
Police said the property was being boarded up by the landlord's agent.
Dismantled barricade
Sussex Police said they were asked to assist with trespassers in the building by representatives of the owner at 11:15 BST.
The occupants were given a deadline by the owner to vacate the premises at 13:50 BST and when that was not met, officers entered the building, dismantling barricading, the force said.
"The nature of the barricade made their intentions to reside quite clear," said Insp Bill Whitehead.
After several hours two 22-year-olds and a 29-year-old were taken into custody.
The ground floor of the property is commercial and is also occupied by squatters, but is not covered by the new legislation which only relates to residential property.
'Welcome news'
Mr Weatherley, the Conservative MP for Hove and Portslade, was among those who campaigned for the new law.
"I'm fully behind Sussex Police taking this swift action to enforce these new powers," he said.
"It is welcome news the new law is being enforced."
Squatting was previously treated as a civil matter. The maximum penalty is now six months in jail, a £5,000 fine, or both.
Before it came into force, government ministers said the legislation would offer better protection for homeowners.
But campaigners warned the new law could criminalise vulnerable people and lead to an increase in rough sleeping.