Uckfield High Street fire 'started deliberately'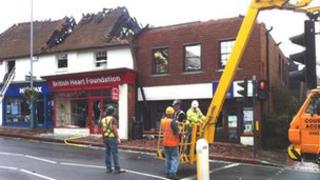 A fire which severely damaged a row of shops in an East Sussex town on Sunday night was started deliberately, Sussex Police have said.
Fire crews were called just before 23:00 BST to a bin alight at the rear of a building on Uckfield High Street.
The fire spread to its roof and damaged five properties. Nobody was injured.
Residents evacuated from their homes overnight have since returned after police shut the High Street and other roads while buildings were made safe.
Structurally unsafe
The High Street and parts of London Road and Coopers Green Road were closed to traffic.
Det Sgt Lee Floyd said: "We believe that this fire was started deliberately and would appeal for anyone with information about who may have started it to contact police."
One of the damaged buildings will have to be partly demolished because the fire made it structurally unsafe.
Ian Ritchie from Uckfield Fire Station said "The fire had gone up into the eaves and straight into the roof.
"Where there was a common roof void going across the top of some of the shops it had just spread rapidly straight through."
Some evacuated residents were given temporary shelter at Uckfield Club in Bell Lane, while Wealdon District Council set up an emergency rest centre in Uckfield Civic Centre.
The council's chief executive Charles Lant said: "It is reassuring to know that when an incident like this occurs, there is a strong community spirit in Uckfield ready to help."
"It is clear that a number of local town centre businesses have been seriously affected by the fire and we will be looking to see what further assistance may be needed."