Thousands cheer aircraft at Shoreham Airshow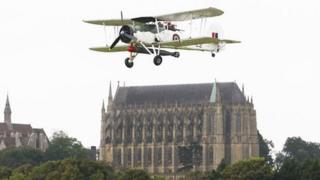 Up to 20,000 people have attended a West Sussex airshow to celebrate the 100th anniversary of the RAF's Central Flying School.
The Shoreham Airshow, based at the town's airport - the oldest in the country - saw displays from the UK's only flying Vulcan bomber.
The packed crowd cheered when the 52-year-old aircraft used in the Cold War, headlined the event on Saturday.
A spokesman for the show said the first day had gone " exceptionally well".
The Vulcan's appearance at the airshow in 2011 was cancelled when the craft developed a fuel leak in its tank.
On Saturday there were also displays from the Battle of Britain Memorial Flight, a Grob Tutor T1 - used by new RAF, Army and Royal Navy pilots - and a Fairey Swordfish II from the Royal Navy Historic Flight.
The spokesman for the airshow, which continues on Sunday, said the only disappointment was that the weather had forced the cancellation of a parachute team display.
The Shoreham Airshow, now in its 23rd year, raises money for The Royal Air Forces Association (RAFA), a charity that supports members and former members of the Royal Air Force.