St Leonards dog attacks owner Spencer Brown jailed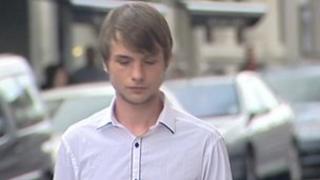 A man whose out-of-control dogs attacked 10 people in the street has been jailed for 12 months.
Spencer Brown, 22, had admitted 10 counts of owning dogs dangerously out of control in a public place.
The attacks happened after Brown's Staffordshire bull terrier crosses, Tilly and Freak, escaped from his East Sussex home, on 22 July.
Brown, of Marline Road, St Leonards-on-Sea, was banned from keeping dogs for life by a judge at Lewes Crown Court.
The court also ordered the dogs to be destroyed.
Aggressive and territorial
Victims of the attack were bitten on their hands, arms and legs as the two dogs walked the area with no leads, while those who came to the victims' aid were also bitten.
The court was told police managed to subdue one of the animals with a fire extinguisher and a dog catcher pole while a passer-by dragged the other into a cage.
Neither dog was a banned breed, but police recommended they both be destroyed after the kennels where they were being held reported that they remained aggressive and territorial.
The court heard that one of the dogs had attacked weeks before, on 16 May.
The victim, Jason Griggs, suffered multiple cuts and a broken finger in the attack, after a confrontation between him and Brown.
He has has been left unable to work as a self-employed electrician.
Brown, who has eight previous convictions for offences including theft and shoplifting, also admitted owning a dog which caused injury in a private place in the attack on Mr Griggs and possession of cannabis.
Covered in blood
One of the victims of the July attack, Nigel Waughman, told police it was "horrific and nightmarish".
Another, Daniel Smith, bent down to pick up his own Jack Russell but fumbled and was attacked by one of the dogs, causing him to fall into the road.
Prosecutor Gail Purdy said both dogs bit him while he was in the road, leaving him covered in blood and needing hospital treatment.
Mark Glendenning, defending, said Staffordshire bull terriers were sometimes seen as status dogs among young people but this was not Brown's reason for owning them.
Brown was asked to leave home aged 15 and was homeless before being housed by social services in bed and breakfast accommodation.
"The dogs were his family," said Mr Glendenning.
Judge Anthony Scott-Gall told Brown the attacks were grave and quite horrific offences which had left victims savagely mauled.
The sentencing comes days after tougher guidelines were brought in for judges under which owners or anyone in charge of a dangerously out-of-control dog faces up to two years in jail.