Osprey visits Sussex Wildlife Trust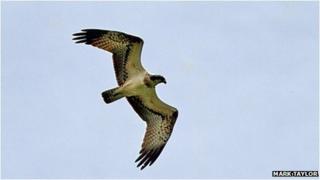 A rare bird of prey has been spotted circling over the lake at Sussex Wildlife Trust's headquarters.
Mike Russell, a tutor at the trust, saw the osprey flying over Woods Mill in Henfield, searching for fish.
Staff checked with the Rutland Osprey Project which said it was an unringed juvenile, probably from Scotland.
Ospreys arrive from Africa in late March and April and leave again in August and September. Scotland is their main UK stronghold.
The wildlife trust said there were a few ospreys in Sussex at the moment at both Arlington and Weir Wood reservoirs, and one at Thorney Island in Chichester Harbour.
Eventually, they will fly across the Channel as they migrate southwards.
Mr Russell wrote in his blog: "At last, after 27 years of working for the Sussex Wildlife Trust at Woods Mill I've finally been rewarded with a wonderful view of an osprey circling over the lake."
He said: "In the past one has been seen flying high over Woods Mill, but this was the first serious visit, eyeing up the very tempting carp that we have cruising in the shallows."
The osprey is on the RSPB's amber list of critical groups, because of its historical decline and low breeding numbers.