Original Bluebird powerboat restored in Polegate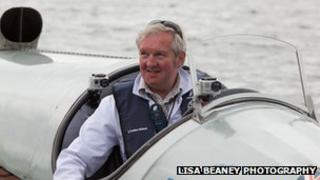 The Bluebird powerboat used by Sir Malcolm Campbell to break the world water speed record in the 1930s has been restored to its former glory.
The owner of Bluebird K3, Karl Foulkes-Halbard, has spent 22 years on the project at Filching Manor Motor Museum in Polegate, East Sussex.
He hopes to take the hydroplane out on the River Thames later this year.
The Isle of Wight-made boat broke the water speed record twice in 1937 and once in 1938 at 130mph (209km/h).
Mr Foulkes-Halbard told the BBC: "It's an incredible piece of British marine history. She was built by the firm Saunders-Roe on the Isle of Wight and commissioned by Sir Malcolm Campbell.
Wreckage recovered
"His aim was to get the world water speed record off America and get it back for Great Britain."
Sir Malcolm, who was born in Chislehurst in Kent, achieved that feat twice in 1937 on Lake Maggiore on the Swiss-Italian border, and again in Switzerland a year later, reaching 130mph.
His son Donald Campbell died in 1967 trying to increase the world water speed record to above 300mph in his famous jet-powered hydroplane Bluebird K7.
The craft lifted up from the surface of the water and somersaulted before crashing and killing him. The wreckage was not recovered until 34 years later in 2001.
Mr Foulkes-Halbard hopes to return to Lake Maggiore next year to recreate Sir Malcolm's world-record run, albeit at the slower speed of about 70mph.
He has already carried out a 40mph test run at quarter throttle at a reservoir in southern England.
Speaking from Filching Manor in East Sussex, he said: "We got hold of the boat in 1988, my late father got hold of it, and we brought it back here.
"It was in a very, very poor condition when we got it and in 1990 she went into the workshop and we set about the very lengthy restoration."
He said the wooden hull, decking and main structure of the boat were in "very poor" condition although the sides were intact.