Lost children on Camber Sands found with wristband scheme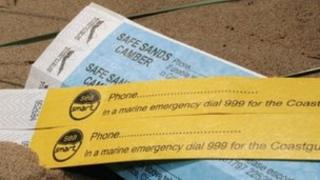 Almost 70 children who got lost on an East Sussex beach on one day were reunited with their parents thanks to a wristband, police said.
On Wednesday, about 27,000 people visited the beach and 67 children were reported lost, Sussex Police said.
The wristbands are given to children on Camber Sands beach by police officers.
Parents are able to write their contact details on the wristbands which are coloured blue or yellow depending on which part of the beach they are on.
Ch Insp Katy Woolford said: "The bands are in boxes outside the coastal control office, the Camber police box on the beach and other nearby car parks and are handed out by beach patrol personnel."
Councillor Martin Kenward, from Rother District Council, said: "We want all our Camber visitors to have a great time and it's our job to help make sure that happens by keeping people safe on the beach."