Dog attack: Two arrested after 10 injured in St Leonards street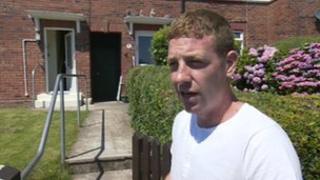 Two men have been arrested after 10 people were attacked by two dogs in an East Sussex street, leaving them needing hospital treatment.
Three of the victims received serious injuries with bites and scratches to their bodies.
Seven others suffered minor injuries during the attack in Marline Road, St Leonards at about 21:00 BST on Sunday.
A 22-year-old local man was arrested at the scene and a 21-year man was arrested earlier.
Sussex Police said the arrested men were being questioned on suspicion of allowing dogs to be dangerously out of control.
When police arrived one of the dogs had already been restrained. The second dog was quickly contained by a dog unit with the help of the officers.
'Distressing incident'
The injured people were aged between 20 and 50.
It is not known what breed the dogs were, but they were taken into police custody following the attack.
Robert Glisson was bitten on the legs while trying to protect an elderly neighbour.
"I put my body in front of her and the dogs so they didn't get her," he said.
"It all was all so quick. The facial expressions on the dogs was just so scary, I've never seen anything like it. I was just so scared."
Insp Sarah Godley said: "This was an incredibly distressing incident for everyone involved and quick work from members of the public and officers at the scene meant that the incident was quickly brought under control.
"Firearms officers were deployed to the incident but they were stood down when it became clear that the unarmed officers were able to get the dogs under control safely.
"This incident has clearly caused local upset but we stress that the situation was dealt with very quickly and safely once officers arrived, and there is no remaining threat to local public safety."
Councillor Phil Scott from Hastings Borough Council, said: "Promoting responsible dog behaviour and management is a priority for us, and we will do all we can to help the police with their inquiries."
Police have obtained permission to have the dogs destroyed.