Uckfield hosts its own Olympic torch relay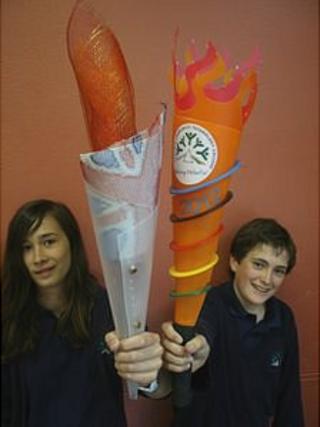 A Sussex town, which is not on the Olympic torch relay route, is hosting an alternative torchbearer relay.
Pupils from Uckfield Community Technology College (UCTC) and six of the town's primary schools are carrying a torch through the town.
The torch, which is travelling a 2.9mile (4.7km) route, has been designed and made pupils at UCTC.
The alternative torch relay is part of the town's annual ten-day summer festival.
The Olympic torch travels between Crowborough and Lewes on Tuesday but only passes Uckfield in convoy along its bypass.
Dorothy Sparks, chairman of Uckfield Festival committee, said: "We saw where the torch relay was going in November last year.
"I was most disappointed for the children more than anyone else because they would not be able to take part in this iconic day."
The town's alternative torch relay sets off at 10:30 BST just outside the town centre.
Its route, which will be temporarily closed to traffic, is being staffed by about 65 marshals from the local community.
'Gets community together'
Ms Sparks said children from all the town's schools are going to watch the relay through the town and she hopes residents will come out too.
"Anything that gets community together is a great idea. That's what the festival is about," she said.
Ms Sparks added that each of the seven schools taking part in the relay has chosen how many of their pupils will carry the town's alternative torch.
The Uckfield torch was designed by 11-year-old UCTC pupil Harry Fishlock.
Design and technology teacher Rory O'Conner said: "It's a nice design task because they were not allowed to use official Olympic imagery and it's being carried by young children from primary schools so had to be light."
The torch will not have a real flame but an artist's impression of one is part of its design.
Another torch designed by UCTC pupil Jazmin Coe, 13, will follow the relay in a car "in case the torch breaks or gets dropped", said Mr O'Connor.