The Novium Roman bath museum opens in Chichester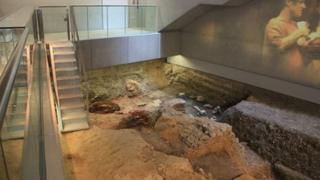 A £6m museum containing the remains of a Roman bath house has opened in West Sussex.
The Novium in Tower Street, Chichester, also contains a mosaic from a nearby Roman fort.
The baths were excavated in the 1970s and were then covered by a car park. Archaeologists also found remains of a pub and a school.
The museum sits on a series of piles, so the remains underneath will not be damaged by the building.