Sussex Police Chief Constable Martin Richards investigated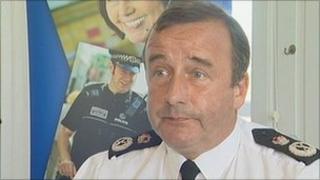 Sussex Police Chief Constable Martin Richards is being investigated over an allegation of misconduct.
Sussex Police Authority said it voluntarily referred the matter to the Independent Police Complaints Commission (IPCC) in June.
It concerns an allegation, made anonymously, of bringing undue influence on a criminal case.
The authority would not give further details, claiming disclosure could risk an "ongoing operational matter".
Mr Richards said he would co-operate fully with the inquiry.
'Expect scrutiny'
He said: "Given the senior position I hold and the trust placed in me by the people of Sussex and my colleagues, it is absolutely right that the Sussex Police Authority has voluntarily referred this matter to the IPCC for independent scrutiny.
"With trust in the police at the forefront of ongoing legitimate public interest nationally, I am mindful of the need to conduct my duties with the utmost integrity and an expectation of scrutiny.
"While the IPCC investigation is ongoing it will be business as usual."
In a statement, Sussex Police said: "It is our usual policy to be as transparent as possible where there are allegations of misconduct and we announce involvement in IPCC investigations proactively whenever possible.
"We cannot disclose the nature of the allegations at this time, however, due to the risk of an impact on an ongoing operational matter.
"We will provide more details when there is no longer a potential impact on operational matters or when the IPCC concludes their investigation."
A spokesman for the IPCC said: "Sussex Police Authority referred an anonymous allegation against the Chief Constable to the IPCC and an independent investigation has commenced.
"It is an allegation that Mr Richards may have used undue influence in relation to an operational policing issue."