Brighton and Hove traffic pollution above EU limits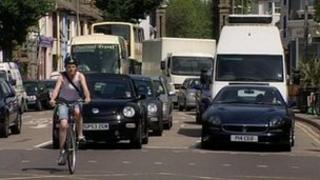 Pollution caused by traffic is above legal requirements in most parts of Brighton and Hove, a report has found.
The study by Brighton and Hove City Council found that 46 out of 63 locations recorded pollution levels above EU targets during 2011.
Councillors are now likely to back a drive to cut fumes and airborne particles caused mainly by vehicles, the local authority said.
The council said the city risked being fined millions under EU legislation.
Chairman of the committee, Councillor Pete West, said: "It is is a long-standing problem which makes the possibility of EU fines all the more worrying. It's proving very difficult to combat the problem of nitrogen dioxide levels in the city, which in cases are nearly twice as high as the EU limit."
'Cause of asthma'
Mr West said it was not known how much the fines could be, but but it could be millions of pounds.
But he added: "The main worry of course is people are living in the city and suffering from high levels of air pollution which is affecting their health."
He said options to be considered included introducing low emission zones, and encouraging people to change fuels and drive electric vehicles.
Possible measures also included minimising vehicle journeys, funding alternatives to car use, making sure low-emission modes of transport were well catered for, ensuring buses were not caught in traffic queues so that public transport could provide a quicker alternative, and use of more low-emission buses, lorries and vans.
The report found the three most polluted sites were North Street, Viaduct Road, and part of Lewes Road,
The council said pollution at those sites consistently hovered at about one and half times EU legal average levels for nitrogen dioxide - a gas that caused illness and shortened life expectancy especially among vulnerable people.
Neil Churchill, chief executive of Asthma UK, said two-thirds of people with asthma found traffic pollution made their condition worse, but it had also been found that traffic pollution played a part in causing asthma in the first place.
The report will go before the council's environment committee on 11 July.