St Leonards shop signs thought to be Robert Tressell's work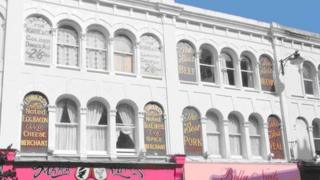 Shopfront signs dating back to the late 19th Century have been uncovered during the restoration of decaying properties in an East Sussex town.
Hastings Borough Council's conservation team stumbled across the signs during their work in Kings Road, St Leonards.
The artwork is believed to have been by the campaigner and author of The Ragged Trousered Philanthropists, Robert Tressell, also known as Robert Noonan.
He regularly worked as a house painter and sign writer in St Leonards.
Councillor Peter Chowney said: "While this is a fascinating glimpse into the past, the big story here is the incredible transformation that is slowly taking place in St Leonards.
"Since 2000 and an initial grant of £1.8m we have been steadily restoring and rejuvenating this area, concentrating particularly on Kings Road.
"Thanks to two Townscape Heritage Initiative schemes and Heritage Lottery Fund grants we have been able to restore shop fronts, install public art and bring back to life several decaying properties."