Part of St Richard's Hospital evacuated due to fire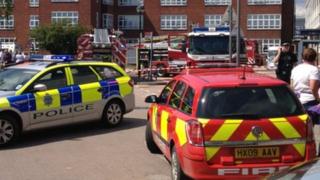 Patients and staff were evacuated from part of a West Sussex hospital after a fire broke out in a store room.
The fire at St Richard's Hospital in Chichester was treated as a hazardous chemical incident by West Sussex Fire and Rescue Service.
Services at the hospital have returned to normal after the fire in the pathology department.
It started at 14:00 BST and was contained within one room near a laboratory which had chemicals in.
Ambulances were diverted to Worthing and Portsmouth as a precaution, and some outpatient appointments were cancelled.
The fire service declared the incident over at about 16:35 BST. No-one was hurt, the hospital said.
Cathy Stone, director of nursing and patient safety at Western Sussex Hospitals NHS Trust, said: "Services are back to normal, although regrettably some of our outpatients were affected today - we will contact everyone involved to rearrange those appointments at the earliest opportunity.
"Whilst the public would have seen a great deal of activity from the emergency services, the majority of our hospital services were unaffected."