Hastings fishermen's 'lives at risk' on shifted shingle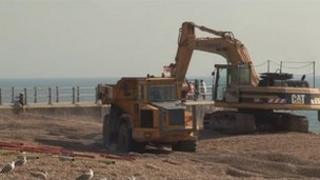 Fishermen in Sussex say the impact of strong winds on shingle at Hastings beach is putting their lives at risk.
They said shingle had been shaped by the weather into ledges, which could have up to a 15-20ft (4.5-6m) drop.
Fisherman Ken Moss said: "It is highly possible we could completely lose a boat or possibly someone could lose their life."
Hastings Borough Council said it hoped to buy two bulldozers to make the slope of the beach more gentle.
Mr Moss said: "We're getting such a build up sometimes when you go to sea early in the morning instead of being a gentle slope it's like a sheer cliff.
"You can imagine trying to get a five to seven tonne boat [over that], it's virtually impossible sometimes."
The shingle on Hastings beach has been regularly moved for generations to maintain a smooth slope to the shoreline where there is a fishing fleet of more than 25 boats.
Recently more shingle was brought in to improve flood defences.
The Council said the bulldozers currently used to maintain the beach's slope were old and prone to breaking down.
Deputy Leader Councillor Peter Chowney said the council had found two bulldozers it was hoping to buy to improve the ploughing of the beach.
"Shingle-working bulldozers come on the market so rarely we thought the best thing to do was simply buy them and use those on the beach in Hastings," he said.