Elmer villagers rescued from flooding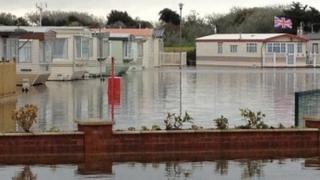 Emergency services used boats to reach about 250 homes in a West Sussex village flooded by 6ft (2m) of water after days of torrential rain.
Evacuees were being taken to Arun Leisure Centre, where the fire service had set up a command centre.
Arun District Council housing officers have been helping people find alternative accommodation.
The council has set up two other rest centres and has housed some residents in bed and breakfast accommodation.
Roads impassable
More than 20 people, including several children, were rescued from flooded caravans at two holiday parks in Bracklesham Bay between 05:00 and 07:00 BST.
Flood waters also reached the Manorfield care home in nearby Earnley.
Owner Tina Buckley said the care home did not have sand bags but staff were wrapping sand in blankets to stop water from reaching exterior bedroom doors.
Seven schools in Bognor Regis and Chichester were closed, with another two partly closed, because of the conditions.
Felpham Community College was also closed after routes into Felpham were made dangerous for people to use.
The college said examinations would not take place and examination boards would be contacted concerning dispensation.
Many roads have been impassable due to flooding since Monday, when rail services were also affected.
The main roads through Felpham and Shripney remained closed on Tuesday evening.
Bill Todd, president of the members-only Bracklesham Caravan and Boat Club, said about eight people who had been planning to spend the whole of the summer season on the site had been rescued.
"They were literally marooned - a lot of the caravans have gone," he said.
Another 16 people had to be rescued from the Sussex Beach holiday park in Clappers Lane, Bracklesham.
Cows rescued
Wiggonholt, near Pulborough, received 72mm of rain in 24 hours, almost one and a half times its monthly average for June, while fire crews across West Sussex dealt with more than 650 emergency calls in 18 hours - the same number they usually receive in a month.
Earlier, West Sussex County Council said surface water was still affecting many main roads and pumps and other equipment was being used.
West Sussex Fire and Rescue Service said the majority of calls it had dealt with were to the west of the county, but there had also been a number inland, specifically at Broadbridge Heath, Kirdford and Washington.
On Monday evening, RSPCA officers were called out to save a herd of cows from drowning after the River Arun burst its banks next to their field in Old Wickhurst Lane, Broadbridge Heath.
Insp Rosie Russon said: "The cattle were stuck on a small patch of the field and we had to persuade them to walk through 5ft of fast flowing water to get to the gate and out on the lane so they could be moved to another field."
Alan Jones, head of emergency management at West Sussex County Council, said although the situation was starting to improve across the county there were still some residents that had been moved out of their homes or who had had damage to their properties.
"We're obviously going to want to support them very closely over the coming days to try and make sure that things can be recovered for them and they can be back into their properties as soon as possible," he said.
Roads affected by flooding include the A29 in Shripney, the A259 in Felpham, and the A281 in Henfield.
The Environment Agency said between 5mm and 15mm of rain fell across the South East overnight on Monday.
It said two flood warnings had been issued for the River Arun watercourse at the Aldingbourne Rife in Bersted and Felpham, and residents were advised to prepare for flooding.
Arun council said it had received a number of inquiries about sand bags, and advised members of the public to purchase them from local builders' merchants or make their own using pillowcases filled with mud and sand.
Flood warnings issued on Monday for the River Mole in West Sussex at Charlwood, Hookwood, Sidlow, Leigh and Betchwood have been downgraded to flood alerts.