Chichester Cathedral peregrine falcon chick takes flight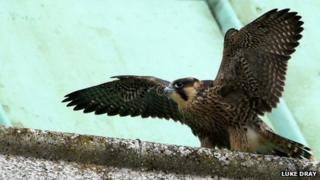 The first of Chichester Cathedral's four recently hatched peregrine falcon chicks has taken flight, according to the RSPB.
A six-week-old male has made a number of short flights to other parts of the building over past few days.
The RSPB said the other chicks would soon follow.
Four eggs were laid over the period of a week at the end of March and the RSPB set up a viewing area for the public to watch live footage of the nest.
Molly Dailide, of the RSPB, said: "Over the past few days, the young have been flapping their wings a lot, strengthening their muscles for the first flying lesson.
"There has been a real buzz about the project as visitors get excited every time a chick jumps up on to the top of the nest box or into a castellation on the turret, wondering if it's going to fly for the first time or not.
"When we arrived this morning, we realised one of the chicks had fledged, and was much further down from the nest, giving us really good views.
"It won't be long before the others follow his lead, and then the fun really begins with great views of all the birds flying round, chasing each other and trying to catch prey for themselves."
The nest installed by the Sussex Ornithological Society has a regular following and the birds have their own Facebook page with hundreds of fans.
This is the 12th year the peregrine pair has bred on top of the cathedral.
If all four chicks young fledge successfully, it will bring the total number of chicks raised by the pair to 42.