Facebook to release ID of users who abused woman online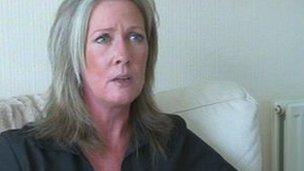 A woman who was abused on the internet has won court backing in her bid to gain the identities of those who targeted her.
Nicola Brookes, from Brighton, was falsely portrayed as a paedophile and drug dealer by internet trolls.
She has been granted a High Court order asking Facebook to reveal the IP addresses of people who had abused her so she can prosecute them.
Facebook has said there is no place for harassment on the site.
Ms Brookes said the abuse started after she posted a supportive message about X Factor contestant Frankie Cocozza.
She said she suffered a barrage of abuse and one online bully created a fake profile in her name, which was used to send explicit messages to girls.
According to her solicitor, Rupinder Bains, trolls published her address and followed her on to other forums, including a recipe forum, to continue the abuse.
"Nicola is housebound so she uses social networking very frequently," she said.
"It's always there - it doesn't matter what she does, they are everywhere she is."
Ms Bains said Facebook did not contest the order.
The website would have been in breach of data protection laws if it had handed over IP details without a court order.
Ms Bains said: "In order to obtain it there's quite a high threshold that we have to meet.
"Basically we need to show it's in the interests of justice... we need to prove the third party, namely Facebook, isn't just a mere witness but is in fact involved in the wrongdoing, albeit innocently, but they are involved.
"We were able to meet that criteria and hence the order was granted."
Facebook confirmed it would hand over the IP addresses and basic subscriber information requested in the order.
As the subscriber information might not be correct, it would be up to Ms Brookes to obtain a further court order to compel internet service providers to reveal which people the IP addresses are connected to.
She would then be able to launch legal action.
A spokesman for Facebook said: "There is no place for harassment on Facebook, but unfortunately a small minority of malicious individuals exist online, just as they do offline.
"We respect our legal obligations and work with law enforcement to ensure that such people are brought to justice."
Related Internet Links
The BBC is not responsible for the content of external sites.