Alpacas culled in TB outbreak in Sussex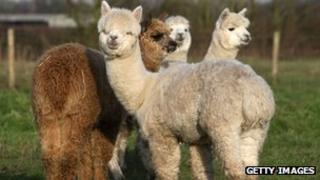 Hundreds of alpacas have been culled on a farm in Sussex after testing positive for bovine TB.
The animals, which are bred for their wool, contracted the disease on a farm in Wivelsfield.
The British Alpaca Society said it is rare for alpacas to contract TB, which is also caught by cattle and badgers.
However, alpacas have been banned from appearing at an agricultural show in Warwickshire following concerns about the spread of the disease.
Shaun Daniel, chairman of the society, said: "It's a tragedy for the farmer, there were several hundred animals there which had fallen to TB."
'Hysteria'
Mr Daniel said in the past four years, 60 farms out of more than 1,000 had been affected.
He said: "We don't want to create a hysteria over TB, it is about dealing with it sensibly and practically and working with the authorities... to eradiate the disease."
A spokeswoman for the Animal Health and Veterinary Laboratories Agency said: "We can confirm several hundred alpacas have been culled at a premises in Sussex after testing positive for TB.
"Every incident of TB is serious to the animal owner involved, and in each case it is important to take action to prevent the spread of the disease to other holdings."