Timeline: 'Abused' boy Christopher Hunnisett went on to kill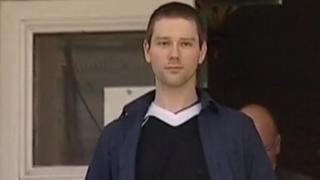 A former altar boy cleared of killing and dismembering a Sussex vicar has been found guilty of the murder of a 57-year-old man whom he met for sex.
Christopher Hunnisett was convicted of murdering Peter Bick less than two years after being cleared at the Court of Appeal of killing Reverend Ronald Glazebrook, in 2001.
During his trial for Mr Bick's murder, Hunnisett told jurors he wanted to rid the world of "paedophiles" and had drawn up a hit list of 900 men.
Here is a timeline of events:
May 2001
The severed head and limbs of 81-year-old Mr Glazebrook are discovered in a sports bag on a traffic island in Hastings, and his torso is found near Eastbourne.
Sussex Police arrest a 17-year-old boy.
Hunnisett, who lodged with the retired clergyman in St Leonards, is charged with his murder.
Youth remanded over vicar's murder
June 2002
Hunnisett, 18, denies the murder charge.
Lewes Crown Court hears Hunnisett attacked Mr Glazebrook because of their worsening relationship but jurors are told there was no question that it was in any way sexual.
Jurors find the defendant guilty of murder and Hunnisett is jailed indefinitely.
The court hears Mr Glazebrook was drowned in a bath before his body was dismembered, possibly with a saw that was found with the limbs and a blood-stained axe found at the flat.
Teenager denies clergyman killing
Teenager guilty of vicar murder
'Cold' killer sentenced for vicar's murder
May 2003
Hunnisett's case ends up at the Court of Appeal, where his minimum jail term is doubled to 11 years.
Three senior judges agree the original tariff of five and a half years set by the trial judge is "unduly lenient".
Vicar's killer 'must serve 11 years'
March 2010
However, seven years later Hunnisett's conviction is overturned and a retrial is ordered.
Vicar murder conviction quashed
August to September 2010
In the retrial, Lewes Crown Court jurors hear claims that the young lodger killed the clergyman after suffering sexual abuse at his hands. Prosecutor Philip Katz tells the court Hunnisett is introducing a "wholly unlikely story".
But the former altar boy, who met Mr Glazebrook at the age of 12, tells the court the elderly man came into the bathroom while he was taking a bath and touched his inner thigh.
Now 26, Hunnisett tells the jury he punched Mr Glazebrook so hard he ended up head first in the bath. He claims he got out of the water, locked himself in his bedroom, and found the churchman dead the next day.
The jury believes his story and clears Hunnisett, who walks free from court.
Accused 'drowned sex abuse vicar'
Killed vicar 'touched boy's leg'
Man not guilty of vicar's murder
January 2011
Four months later, Peter Bick is found dead in a Bexhill flat.
Sussex Police reveal the 57-year-old man died from severe blows to the head in a "vicious attack".
Hunnisett, now 27, is charged with his murder.
Man arrested over flat 'murder'
Victim's car 'used after murder'
Man charged with Bexhill murder
April 2011
Hunnisett denies the charge and prepares to face another murder trial.
Man denies Bexhill murder charge
April to May 2012
The 28-year-old defendant admits manslaughter through diminished responsibility but denies a charge of murder.
Jurors hear he wanted to rid the world of "paedophiles" and had a hit list of men he planned to kill.
Prosecuting, Philip Katz QC says there is "not a shred of evidence" that Mr Bick was a paedophile. The jury is told Mr Bick had consensual sex with men, including the defendant.
Hunnisett, of Chanctonbury Drive, Hastings, is found guilty of murder.