Beachy Head lighthouse stripes campaign gets £10,000 boost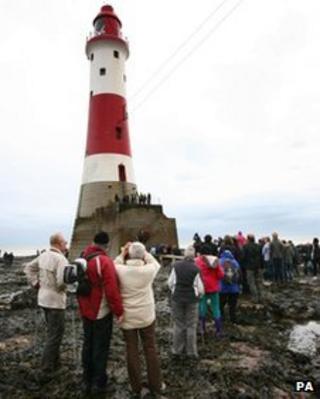 A campaign to save the red and white stripes of Beachy Head lighthouse in East Sussex is more than two-thirds of the way to its fundraising target.
Eastbourne council has donated £10,000, leaving the Save Our Stripes group £13,000 short of its £45,000 target.
Owner of the lighthouse, Trinity House, has said it will no longer pay for repainting as the stripes are now not required to aid ships' navigation.
However, it said the work could go ahead if campaigners meet the cost.
Traditionally the lighthouse, at the foot of Beachy Head chalk cliffs near Eastbourne, has been repainted every 10 years.
But Trinity House said it was allowing the lighthouse to return to natural granite because the cost of painting could no longer be justified now ships use satellite navigation.
On Saturday, 233 people took advantage of a low spring tide to join a fundraising walk around the landmark.
Organiser Martin Wellings said: "We need to protect some of our historical sites otherwise where does it stop?
"If it was just allowed to degrade then the paint would literally peel off.
"The lighthouse is still used and, although the colours are no longer used because of GPS, the local fishermen and the local people still want it."
The lighthouse was brought into service in 1902.
It was automated and de-manned in June 1983 and is monitored remotely 24 hours a day by Trinity House's operations and planning centre at Harwich, Essex.
Its light is still set to guide passing mariners at night, providing a range of eight nautical miles across the English Channel.