Swastikas daubed on Jewish woman's car in Brighton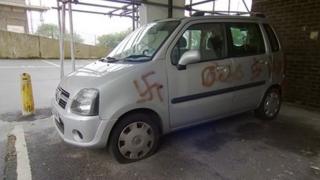 Vandals who spray painted five swastikas on to a Jewish woman's car are being sought by police in Brighton.
Three tyres on the 64-year-old's car, which was parked outside her home in Whitehawk, were also let down.
Sussex Police said it was treating the incident as a racist hate crime, and the family had been left "shocked, devastated, and very upset".
Insp Bill Whitehead said the woman had not returned to her home in Heron Court since the attack on Tuesday.
'Chilling and traumatic'
"A cowardly attack like this has a dramatic effect on somebody, particularly when they're quite vulnerable due to their age," he added.
Rabbi Herschel Rader, the leader of Brighton and Hove Hebrew Congregation, said the incident was "very shocking" for any Jewish person.
He said it was "a chilling and traumatic experience".
Police have been checking CCTV cameras and speaking to people in the area to try to find who was responsible for the attack.