Vanessa Redgrave leads parade to open Brighton Festival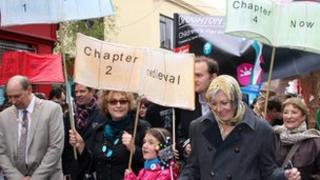 Oscar-winning actress Vanessa Redgrave has led 5,000 children from 77 local schools in a parade to open the three-week Brighton Festival.
The actress and political activist, who is a Unicef goodwill ambassador, is guest director of the 46th Brighton Festival, which runs until 27 May.
She said she was "honoured" to be given the role and hoped the festival would open up people's imaginations.
The parade started at 10:30 BST in Kensington Street.
It wound through the North Laines into central Brighton, ending in a display on Madeira Drive on the seafront.
Brighton and Hove City Council said road closures would be in place between 06:00 BST and 15:00 BST and bus services would be disrupted.
Ms Redgrave, who won the best supporting actress Oscar in 1977 for Julia, is the fourth big-name guest director of the festival.
Last year's was Burma's pro-democracy leader Aung San Suu Kyi.
Months of work goes into costumes and practising for the children's parade, which this year has the theme of stories and storytelling from ancient myths to modern graffiti art.
Ms Redgrave was also giving an on-stage interview about her life and career at Brighton Dome as part of the opening day's events.
A documentary film, The Killing Fields, by her son Carlo Nero was being shown on Sunday. The movie argues for economic reforms to bring about a long-term solution to environmental concerns in Britain and Europe.