Sussex Police rolls out Taser use to 160 more officers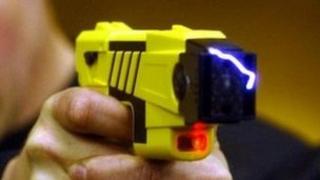 Tasers are to be used by a further 160 police officers across Sussex, it has been revealed.
Currently only Sussex Police firearms officers use the stun guns but response teams will also use them from October.
Ch Supt Paul Morrison said the move would give the force more options in deploying staff and officers would receive appropriate training.
Concerns have been raised by the human rights group Amnesty International that Tasers are being rolled out too widely.
A spokeswoman for Amnesty said: "Where there is a serious risk [such as] loss of life or very serious injury, that's where we would insist that these weapons are used.
'A real need'
"But in real terms it's unlikely that many officers would be faced with that situation on a daily basis."
Ch Supt Morrison said: "We're not rolling it out to every officer within Sussex. It's going to be a selected number of officers - 160 which just represents about 6% of the total workforce.
"These officers will mainly be in our response teams, and not in the neighbourhood policing teams, and they will be given the appropriate level of training."
The police chief said there was "a real need" for more officers to carry Tasers.
"It will reduce the response times to incidents and it will relieve the firearms cars from always having to attend these incidents, and therefore what we don't have is firearms officers being deployed to what are essentially local policing issues."