Brighton seafront hotel guests evacuated after fire spreads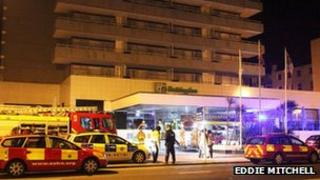 Guests at a Brighton hotel had to be evacuated after a fire broke out in the basement of the 21-floor building.
The fire broke out in an electrical room two floors below ground level at the Holiday Inn in Kings Road just before 23:00 BST on Thursday.
East Sussex Fire and Rescue said it took crews about an hour to bring the fire under control.
Ron Kirkwood, from the fire service, said: "It was quite difficult to get into the basement to put the fire out."
He said the cause of the fire was under investigation, but it was thought to be accidental.