Murder trial told accused had 'paedophile hit list'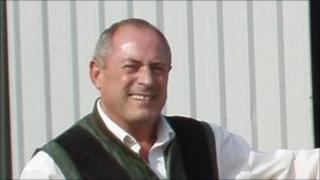 A man accused of murdering a 57-year-old supermarket worker had a hit list of men he planned to kill in an attempt to rid the world of "paedophiles", a court has heard.
Christopher Hunnisett, 28, is accused of killing Peter Bick at his home in Bexhill, on 11 January.
Lewes Crown Court heard there was no evidence that Mr Bick, who died from severe head trauma, was a paedophile.
Mr Hunnisett, of Chanctonbury Drive, Hastings, has pleaded not guilty.
The jury was told Mr Hunnisett had previously been convicted of murdering a vicar, Reverend Ronald Glazebrook, in 2002.
However, Mr Hunnisett appealed against the conviction and was found not guilty in 2010 after a retrial.
'Planned to kill'
Philip Katz QC said there was "not a shred of evidence" that Mr Bick was a paedophile.
Mr Katz explained that the victim had consensual sex with men, including the defendant.
The court heard Mr Hunnisett had contacted several men through the internet and added them to his hit list.
However, there was also no evidence any of these men had ever wanted or had had relationships with children.
Mr Katz said after murdering Mr Bick the defendant walked into Hastings police station and admitted carrying out the killing.
He added: "Suggestions were that he had planned to kill more men who he had been in contact with over the internet.
"He had a hit list and Peter Bick was top of that list."
The jury was told that Mr Bick, who worked at Asda, had moved to Dorset Road South in September 2010, having split up from his long-term partner.
He regularly used social networking and dating websites to meet men for sex.
'Hit with hammer'
On the day of the alleged murder, Mr Hunnisett walked up to an off-duty police officer outside Hastings police station and said he had killed someone, the court heard.
"I smashed his head in with a hammer and then put a rope around his neck," he is alleged to have told the officer.
When Mr Hunnisett was searched, items belonging to Mr Bick, including his glasses, a small screwdriver and two keys on a thong, were found, the barrister added.
Police visited Mr Bick's address and found a large amount of items including suitcases, clothes hangers, sex toys, clothing and a laundry basket piled on top of the duvet on the bed.
Officers found Mr Bick underneath the duvet.
It was clear to the officers that he had sustained serious head injuries, Mr Katz added.
The trial continues.