Virgin Atlantic: Technical fault let to Gatwick jet alert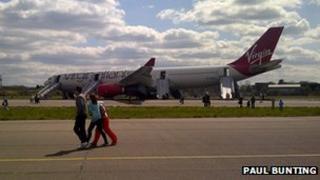 An emergency landing of a plane at Gatwick was caused by a technical fault with the aircraft alarm's system, the airline Virgin Atlantic has said.
More than 300 people had to exit the Airbus A330 using emergency chutes on Monday, as emergency teams stood by.
An airline investigation said the emergency landing was caused by "alarms being triggered in flight".
Smoke was reported in the cabin at the time but Virgin said there was no smoke and a technical fault was to blame.
A spokeswoman said: "The alarms were going off continuously. The pilot and crew were alerted and the plane had to turn back."
'Safety maintained'
Passengers had described scenes of panic with people landing on top of each other at the bottom of the chute as the plane was cleared on the runway at the West Sussex airport.
Fifteen people needed hospital treatment for suspected fractures following the evacuation.
But in a statement, the airline said the flight crew responded to alarms triggered and carried out a professional evacuation.
A spokesman for Virgin Atlantic said: "A full technical evaluation and systems assessment has been completed in conjunction with the airworthiness authorities and the manufacturer, and the aircraft has been certified for a return to service.
"The investigation identified that a number of alarms were triggered in flight, in response to which our flight crew took positive action in line with procedures by returning to Gatwick and completing an evacuation of the aircraft."
He added: "The flight crew and cabin crew followed safety procedures at all times and carried out their duties in a professional manner to ensure the safety of our passengers was maintained throughout the flight and during the evacuation.
"We again apologise to all of those passengers that were impacted by this difficult but rare situation."
The Airbus A330 had left Gatwick at 11:48 BST bound for Orlando in the US, but had to return to land at 12:17 BST after reports of smoke in the cabin.
All flights at Gatwick were suspended for about an hour and 40 minutes during the alert.
The Air Accidents Investigation Branch is still investigating the incident and will publish a report.