Officers injured during nationalist march through Brighton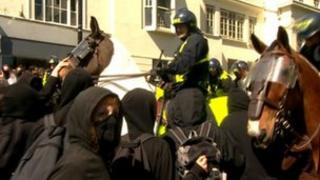 Two policemen suffered head injuries after bottles were thrown at them during a nationalist march in Brighton.
The March for England group held its fifth annual event, with counter protests by anti-fascist groups.
About 140 people took part in the march which was temporarily halted twice and re-routed to avoid the seafront.
One of the injured officers was taken to hospital but later discharged. Sussex Police said three people were arrested for public order offences.
Police said the route had been changed "following significant verbal aggression by both groups of demonstrators".
And mounted police were drafted in to maintain calm as attempts were made to obstruct the march at several points amid "considerable levels of violence", police said.
Roads were closed in the area, and bus services disrupted.
The march was halted first in Queen's Road and then in Church Street, where mounted officers were deployed to help with crowd control.
The protesters rallied at Victoria Gardens for speeches before moving northwards.
Police said there were reports of missiles being thrown as the march moved past Sydney Street.
The groups started to disperse at about 15:40 BST after the protesters had reached the railway station.
Speaking before the march, Matt Silva, from March for England, denied the group was far right.
"We're just an English pressure group really," he said.
However, Lou Kenton, from the Anti Fascist Coalition, said: "Every year they parade through Brighton and shout racist abuse at passers by."