Search for information on suffragette Muriel Matters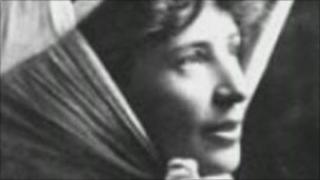 An Australian politician has flown to the UK in search of people who knew the leading suffragette Muriel Matters.
Ms Matters, who was born in Australia but lived in Pelham Crescent, Hastings, East Sussex, was a prominent member of the Women's Freedom League.
She stood for election as MP in Hastings in 1924 and died, aged 92, at a nursing home in St Leonards in 1969.
Frances Bedford, a member of the South Australian Parliament, wants to find out more about her life in Hastings.
A blue plaque to Ms Matters was unveiled by Hastings Borough Council in 2010.
'Meet local people'
Ms Bedford said: "Muriel arrived in London in 1905 and became involved in the Woman's Freedom League (WFL) and in 1907 led the first Caravan Tour of south-east England and Wales promoting the league. On that trip she first saw Hastings.
"Obviously, she loved it enough to go on to buy property there and to stand for election for the Labour Party in 1924.
"My hope is to meet local people who know about Muriel and her life in Hastings.
"The only person I have located so far worked in the Brassey Institute while Muriel was alive. He migrated from the UK and now lives in Adelaide."
In 1909, Ms Matters chained herself to a grille in the Ladies' Gallery of the House of Commons.
The Muriel Matters Society said the grille was seen as a symbol of oppression as it obscured women's view of Parliamentary debates.
Ms Matters also dropped suffragette leaflets from an airship across London in 1909.
Ms Bedford said she would be at the cafe under St Mary-in-the-Castle, Hastings, on Tuesday to speak to anyone with information about Ms Matters.